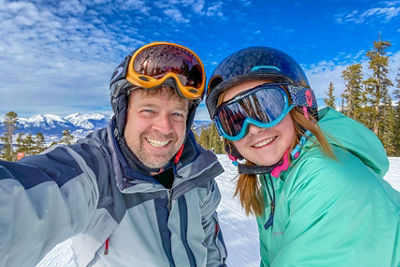 Colorado
I grew up in Colorado. I was born in Denver, lived in Colorado Springs through high school, and in 2nd grade we even moved to Vail for a year. I learned how to ski at Ski Broadmoor (RIP) as well as at Vail and Breckenridge. When I came back to the Springs after college and grad school in the late 90s, one of the first adult things I did was get a season pass for Vail Resorts. I skied with friends every week, usually taking a Tuesday or Thursday off from work. It was perfect! Breckenridge was our usual destination, given the easy drive, but we mixed in Keystone and Vail frequently.
Life
Then I married a California girl and moved to the
west coast
. We kept a house in Colorado Springs and spent Christmas vacations there as well as part of the summer and some school holidays. And the
Epic Pass
still made sense. My kids all learned to ski in Colorado during those trips (mainly at
Crested Butte
and
Keystone
), and I was still able to hit the slopes often. As long as we were able to ski a handful of days a year, we got our money's worth from having Epic Passes.
Epic Pass Benefits
The Epic Pass has a lot of benefits, and honestly we haven't taken advantage of them enough! There's the
skiing in Colorado
of course, and that was always our primary interest, but we also love everything else. Epic Pass benefits you may not be aware of:
Rentals
Two of us have our own skis, but three don't – it just doesn't make sense to buy skis and boots for the kids until they stop growing, given we don't live in a mountain town and ski every day. So when we head to the slopes, we rent. With Epic Mountain Rewards, included with every Epic Pass, we save 20% on those
equipment rentals
.
Ski Lessons
Have you ever tried teaching your kids to ski? It's not fun! I have so much respect for the ski and snowboard instructors at Vail Resorts. My kids have quickly learned the basics from their half-day and full-day lessons, but just as importantly they've had fun. If your first time on skis isn't fun, you're not going to be excited to go again. That's never been an issue with my kids! Epic Pass holders save 20% on
group lessons
.
Lodging
I've done a lot of day trips to the slopes, and they're always fun, but if I had a choice between driving up and driving back, or staying for a few days, I'll always opt to stay – especially with kids. If you have an Epic Pass, you save 20% on lodging. So nice waking up, having breakfast and then hitting the slopes on one of the first lifts of the day!
Food
You're going to want to have lunch on the mountain – rest your legs for a while, enjoy the view, and then pop your skis or board back on and head downhill! Epic Pass holders save 20% at
on-mountain restaurants
, and not just for lunch. There are some amazing dinner options as well!
Skiing Everywhere Else
I'm partial to Colorado – it's where I grew up and learned to ski after all. And we still return often since we have family in Colorado. But realistically, if we want to ski, there are closer resorts to us in California. We could drive to
Kirkwood
,
Northstar
or
Heavenly
(and stop in Yosemite on the way, which is always amazing). Or we can fly to
Park City
and be on the slopes in no time. And
Whistler
(BC) has been on my list for years. It's such a great option as access is already part of my Epic Pass. Altogether there's unlimited access to 40 resorts across North America & Australia, plus additional limited access to
partner resorts
all over the world! I've been hearing about Japanese skiing for years and there are ten resorts there included in Epic Pass
Summer Epic Pass Benefits
I love mountain towns in the summer! There's the overall vibe and clean air, as well as rafting, biking, hiking and all sorts of things that are just easier to do in the summer than in the winter. We always take chair lifts or gondolas up the mountains and then hike down, or simply enjoy the activities at the top and then ride the lift back down. Epic Pass summer discounts and benefits are largely the same as in the winter: things like on-mountain dining, lodging and rentals (bikes) are all 20% off.
Summary
The Epic Pass is perfect for our family – and yours! We use ours for skiing of course, but also for so much more, given that
Epic Mountain Rewards
gives us discounts year-round in a lot of our favorite places. One of the best deals anywhere! There are several Epic Pass options, so
compare passes
to see which one is right for you.