Epic SchoolKids
Utah Pack
Registration is closed for the 2022-23 season.
The Epic SchoolKids Utah Pack is a FREE program for Utah Kindergarten through 5th graders that provides five days of skiing and riding at Park City. No purchase necessary!
Have Questions? Visit the Epic SchoolKids Utah Pack FAQ for more information.
Read more from Local Utah Families
Experience Epic Schoolkids
Read more from Local Utah Families
Restrictions
Pack Restricted Dates:
Friday, November 25, 2022 – Saturday, November 26, 2022
Monday, December 26, 2022 – Saturday, December 31, 2022
Saturday, January 14, 2023
Saturday, February 18, 2023 – Sunday, February 19, 2023
Give them the confidence to learn the sport with one FREE Epic School Kids Lesson & Rental package!
Epic School Kids offers one free first-timer lesson and rental package for any participating child who has never skied or snowboarded.
The lesson must be booked in advance. Please call at least 2 weeks in advance of your preferred date to ensure availability!
The free first-timer lesson and rental package must be redeemed as a package and is limited to one total per child (not one per participating resort). Lesson is subject to availability and is only offered at select times throughout the season.
Note: Child 4 & under Epic Passes are not Epic SchoolKids packs and therefore, do not include this free first-timer lesson & rental benefit
First-Timer Lessons & Rental Availability:
Monday, Nov. 28 - Saturday, Dec. 10, 2022
Monday, Jan. 9 - Friday, Jan. 13, 2023
Tuesday, Jan. 17 - Sunday, Jan. 29, 2023
Progress their skills!
If your child has skied or snowboarded before, we offer several lesson options that will help them learn new skills, gain confidence, and further their love of the mountains.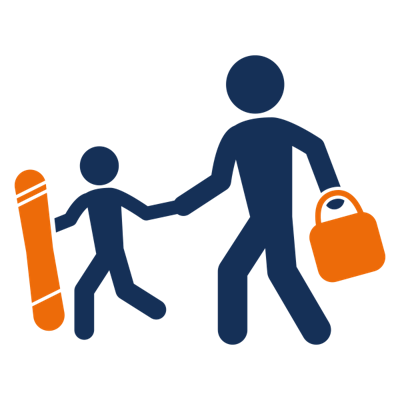 Ski and snowboard equipment
To get yourself set for the entire season, there's no better deal than our Junior Trade program. New ski and snowboard packages start at $199 and you can exchange up in size once during the season for no charge. The next season, you receive 50% back towards your purchase making new packages only $99 after trade in!

Visit our Canyon Mountain Sports location below to get your child ready to go for next season.

Canyon Mountain Sports
3720 N Sundial Ct, Park City, UT 84098
(435) 615-3440
(435) 658-5544
Visit the Park City Resort Guide to get tips and tricks for visiting Park City Mountain with your kids!
Learn about:
Parking Options


Family-friendly terrain guides


Kid-friendly dining choices


Special activities and events for kids and more!


Still have questions? Call (970) 754-0025 or visit our FAQ page.