20% OFF FOOD AND BEVERAGE
Pass holders can now take 20% off a quick lunch, an afternoon pick-me-up or an après experience, all with stunning views to match.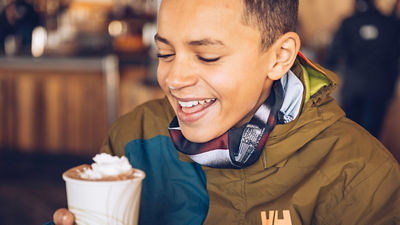 Complete your Vacation
Fill up on Savings
After a few hours of skiing and riding the fresh powder, you'll be ready to refuel. As a pass holder, you are automatically given 20% off your meals any time of the day or night. Just scan your pass and save. Whether it's a hearty breakfast before hitting the mountains, or a well-earned après ski get-together, you can enjoy incredible views while taking advantage of those pass holder perks. And as savings apply on orders of up to $150 per day, you've got plenty of opportunities to grab a bite without taking one out of your wallet. (Discount does not apply to alcohol due to legal restrictions).
Previous tab
Previous tab
COLORADO
Pass holders get 20% off:
Resort
Winter Locations
Summer Locations
Beaver Creek

Broken Arrow Cafe
Mamie's
Spruce Saddle Food
Talons
The Parlour

Broken Arrow Cafe
Mamie's
Spruce Saddle Food
Talons
The Parlour

Breckenridge

Maggie Food Court
Overlook Restaurant
Pioneer Crossing QS
The Coop
Ski Hill Grill
Tenmile Station (R)
Vista Haus Cafeteria

Maggie Food Court
The Coop
Ski Hill Grill

Crested Butte
Keystone

La Bonte's Cabin
Mountain House
Summit House
Timberridge Cafeteria

Mountain House
Summit House

Vail

Belle's Camp
Buffalos
Dog Haus
Eagle's Nest Food
Golden Peak Grill
Gondoly's
Mid-Vail Food
Two Elk Food
Wildwood Smokehouse
Wildwood Express

Eagle's Nest Food
Golden Peak Grill
Gondoly's
Mid-Vail Food
UTAH
Pass holders get 20% off:
Resort
Winter Locations
Summer Locations
Park City

Cloud Dine
Legacy Cafe
Mid-Mountain
Miner's Camp
Red Pine Lodge
Summit House
Sun Lodge
Tombstone Grill

Legacy Cafe
Red Pine Lodge
CALIFORNIA
Pass holders get 20% off:
Resort
Winter Locations
Summer Locations
Heavenly

Boulder Lodge FC

Cafe Blue

California Lodge

East Peak Restaurant

Heavenly Donut

Lake View Food Court

Sky Deck Restaurant

Stagecoach

Steins

Tamarack Lodge F&B

Cafe Blue
Tamarack Lodge F&B

Kirkwood

General Store

Jets Hangar
Monte Wolfes
Sunrise Grill
Timber Creek

General Store
Monte Wolfes

Northstar

Big Cheesy
Lodge at Big Springs
Ski Hill Grill
Summit Lodge
Zephyr Lodge

Big Cheesy
Lodge at Big Springs
Ski Hill Grill
Summit Lodge
Zephyr Lodge
WASHINGTON
Pass holders get 20% off:
Resort
Winter Locations
Summer Locations
Stevens Pass

CascadianCafe

Iron Goat

Outer Limits

T-Bar Coffee/Cafe

Tye Creek

Cascadian Cafe
T-Bar Coffee/Cafe
Tye Creek
NEW HAMPSHIRE
Pass holders get 20% off:
Resort
Winter Locations
Summer Locations
Attitash

Base Lodge Cafe
Bear Peak Cafe
Frostbites Cafe

Crotched Mountain
Mount Sunapee

Spruce Cafe
Summit Lodge
Sunapee Lodge

Wildcat
NEW YORK
Pass holders get 20% off:
Resort
Winter Locations
Summer Locations
Hunter Mountain

Goldye's
Inside Waffles and Ice Cream
Jerry's Deli
Marketplace
Santini's Pizza
Tubing Park
Pika's Waffles
VERMONT
Pass holders get 20% off:
Resort
Winter Locations
Summer Locations
Mount Snow

High Timber Cafe
Market Fresh
Summit Lodge Cafe
Sundance Cafe
Reuben's BBQ
Grand Country Deli

Okemo

Base68
Roundhouse
Sugarhouse
Summit Lodge Cafe

Stowe

Mansfield
Midway
Octagon
Spruce Camp
Waffle
PENNSYLVANIA
Pass holders get 20% off:
Resort
Winter Locations
Summer Locations
Big Boulder

Big Boulder Cafe
Boulder Park Food
Tubing Big Boulder

Jack Frost

Jack Frost Cafe
Jack's Pizza

Liberty Mountain

Alpine Market
BBQ Deck
South Pole Snack Bar
Boulder Ridge Tubing Hill

Roundtop

Food Court
Mountain View Lodge
Smokehouse

Whitetail

Grille Room
Day Break Cafe
Marketplace
Tubing Snack Bar
INDIANA
Pass holders get 20% off:
Resort
Winter Locations
Summer Locations
Paoli Peaks

Peaks Pizzeria & Grill
Paoli Peaks Tubing Cafe
MICHIGAN
Pass holders get 20% off:
| | | |
| --- | --- | --- |
| Resort | Winter Locations | Summer Locations |
| Mt Brighton | | |
MINNESOTA
Pass holders get 20% off:
Resort
Winter Locations
Summer Locations
Afton Alps

Alps Cafe
Highlands
Landing Zone Chalet
Meadows Chalet
MISSOURI
Pass holders get 20% off:
Resort
Winter Locations
Summer Locations
Hidden Valley

Hidden Valley Cafe
Tubing Concession Stand

Snow Creek
OHIO
Pass holders get 20% off:
Resort
Winter Locations
Summer Locations
Alpine Valley
Boston Mills
Brandywine
Mad River Mountain

Timberline (not Avalanche) Tubing Hill
Cafe
WISCONSIN
Pass holders get 20% off:
Resort
Winter Locations
Summer Locations
Wilmot

Ski Hill Grill
Tubing Lodge
BRITISH COLUMBIA
Pass holders get 20% off:
Resort
Winter Locations
Summer Locations
Whistler Blackcomb

The Chic Pea

Crystal Hut Restaurant

Dusty's Backside

Garbo's

Glacier Creek Lodge

Harmony Hut,

Horstman Hut

Ollie's Grilled Cheese

Raven's Nest

Rendezvous

Roundhouse

Garbo's
Rendezvous
Roundhouse
FREQUENTLY ASKED QUESTIONS (FAQs)