EPICMIX WITH LIFT LINE FORECASTS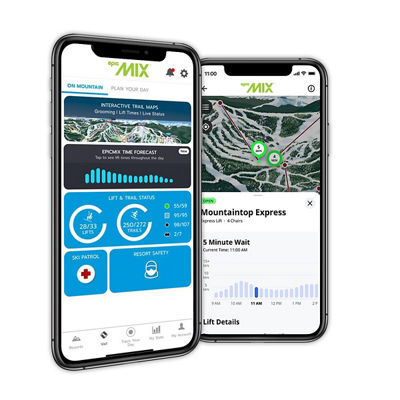 Maximize Your Day with Lift Line Forecasts
EpicMix Time displays forecasts of lift line wait times allowing you to spend more time skiing and riding. See what lifts will have the shortest wait times every hour of the day so you can plan your skiing and riding experience.
Leveraging machine learning to improve over time, EpicMix Time provides wait time projections for all lifts using a wealth of historical data and real-time information:
Current lift line time
Historic lift line times
Lift line times at other lifts
Current snowfall
Day of the week
Period of the season
This groundbreaking enhancement is now available at Vail, Beaver Creek, Breckenridge, Keystone and Park City. Coming soon to Whistler Blackcomb, Crested Butte, Heavenly, Northstar, Kirkwood, Stowe and Okemo.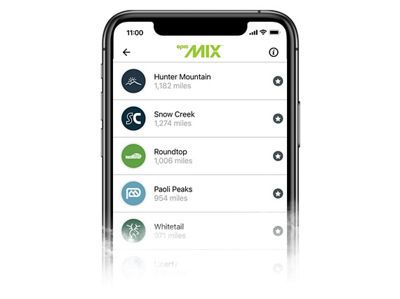 ACCESS YOUR FAVORITE RESORTS
The upgraded EpicMix app can be used at all 37 of our North American resorts. Don't hit the slopes without it.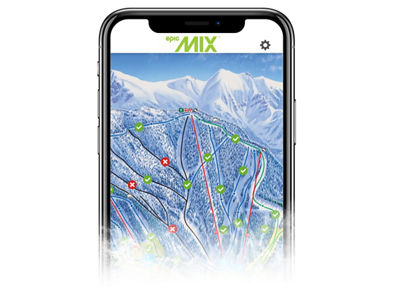 NAVIGATE WITH INTERACTIVE TRAILMAPS
Navigate the mountain like a pro. EpicMix interactive trail maps are indispensable, giving you:
Trail and lift status
Your precise GPS location
The latest grooming information
Mountain web cams
Dining and ski patrol locations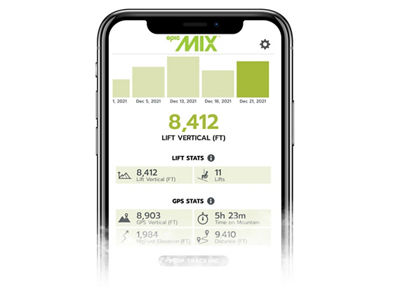 TRACK MORE STATS WITH GPS
Use GPS tracking to see even more stats. Track your season day-to-day and year-to-year.
Total vertical feet
Highest elevation
Time on mountain
Lifts ridden and resorts visited
Distance covered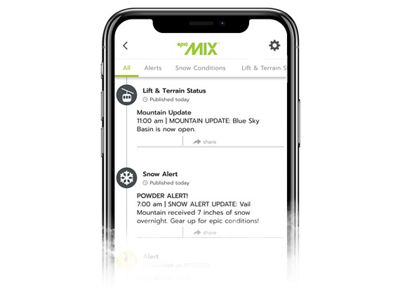 STAY IN THE KNOW
Receive instant resort updates on snow alerts, lift status changes, trail updates and more. And get the latest on the Vail Resorts commitment to safety.
CHECK OUT ALL THE GREAT EPICMIX FEATURES
What's in the mix?
CHECK OUT ALL THE GREAT EPICMIX FEATURES
Dining Reservations
Make dining reservations from anywhere on the mountain.
Weather & Snow Totals
Get up-to-the-minute info on weather conditions and snow totals.
Grooming & Trail Status
See which trails are open and which ones have been recently groomed.
Road Conditions and Cams
Get to the resort safely with the latest road info.
Resort Safety Alerts
The latest news and information about your resort sent straight to your phone.
Direct Access to Ski Patrol
When you need help, our mountain experts can find you with your GPS location.
Frequently Asked Questions
For a complete list of Season Pass FAQs, visit our
help center.
What is EpicMix?
The EpicMix app provides you:
Interactive trail maps, with trail and grooming status
Real-time weather, snow totals and mountain cams
Your on-mountain GPS location and stat tracking
Resort updates and safety information
And more!
Where can I get help with the app?
To answer any questions regarding the EpicMix app, you can reach out to our call center by navigating to the "My Account" tab and selecting the "Contact" or "Report an Error" button in the menu.
What happened to EpicMix Race and EpicMix Academy?
EpicMix Race and EpicMix Academy have been temporarily deactivated following the 19/20 season. Race and Academy are being re-imagined for a more integrated and easy-to-use experience.
How do I access my family info on the EpicMix app?
To access a family or household account, navigate to the "My Account" tab and select the "My Account" button under your profile name. This will link you to your household account on EpicPass.com. If you do not see a "My Account" button, you will need to select the "Login" button first to login to the EpicMix app and link your accounts.
Where can I find my epicMix pins from past years?
Historical EpicMix pins and badges have been deactivated following the 19/20 season. This feature will likely be re-integrated into the app in the coming seasons in an improved and re-imagined experience.
Why do I have to download the trail map for each resort?
The EpicMix app requires a download of each resort's interactive trail map when you access the trail map for the first time. This allows you to access all interactive features of the map when you're offline or don't have cell service. You do not need to download the interactive trail map each time you open the map, only the first time you open the trail map.
How do I edit or add chairlifts that may not have scanned for my EpicMix stats?
You can reach out to our EpicMix team at epicmix@vailresorts.com to add specific lifts to your account to update your stats. Please note this can only be done for the following resorts: Vail, Beaver Creek, Whistler Blackcomb, Breckenridge, Park City, Keystone, Crested Butte, Heavenly, Northstar, Kirkwood, Stowe, Okemo, Mount Sunapee, Afton Alps, Mt. Brighton, Hunter, and Mount Snow. We will be working to integrate more resorts into the app, and re-imagine the overall experience in the coming seasons.
Is EpicMix.com still available?
All features offered by EpicMix are now located on the mobile app, in one central location. You no longer need to visit several different locations for your information, it is all located in the mobile app.
What happened to my EpicMix photos from previous years?
EpicMix Photo continues to be deactivated for the 21/22 season and there are no EpicMix photographers on mountain. You can access previously purchased EpicMix Photos by reaching out to a call center agent at epicmix@vailresorts.com. Please allow 6-8 weeks processing time to receive your photos. Thank you for your patience.